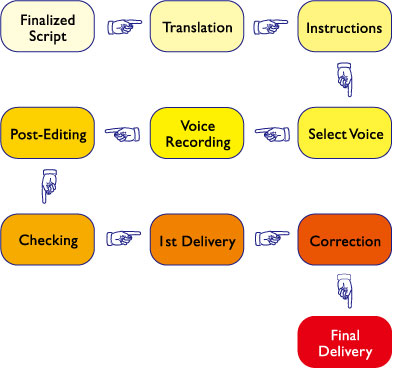 Step 1: Finalized Script
The client provides the final confirmed script files.
Step 2: Translation
Translate the script from source language into target languages, and send to client for confirmation.
Step 3: Instructions
Ensure to be clear of voice recording instructions, including delivery format, technical specification etc.
Step 4: Select Voice
The client selects the voices from the voice database we provide and confirm their availability.
Step 5: Voice Recording
The voice talents will make voice recording in the studio.
Step 6: Post-Editing
Make post-editing and technical processing on the recorded audio files, including multimedia engineering and integration etc.
Step 7: Checking
Listen to the audio files carefully and arrange the translation team or voice studio to make revisions if any mistakes or problems.
Step 8: 1st Delivery
Deliver the finished audio files in the requested formats. The client will feedback any revisions.
Step 9: Correction
The translation team and voice studio will make revisions based on the client's comments, until the client satisfactory.
Step 10: Final Delivery
Deliver the finalized script translation and audio files as required.