Solution 2: selected webpages localization, designed for SME, with limited web marketing cost.

Overview: Only selected webpages need to be translated into multiple languages which maximumly save the website globalization cost. The website mainly consists of home page, company overview, contact information, key products and service introduction, solutions, and white papers.

Designed for: SME with 1-50 employees.

Website languages: We recommend you to determine the languages by referring to our suggestions below.
• For the European and American market: It's advised to use English, French, German, Italian, and Spanish.
• For the Asia-Pacific regions: It's advised to use Simplified Chinese, Traditional Chinese, Japanese, Korean, English, Thai, Indonesian, Vietnamese, Malay.
• For the Middle East regions: It's advised to use Arabic, Persian and Hebrew.
• For Indian Market: It's advised to use English and Hindi.
We will advise you of specific languages according to your target markets.

Website Structure: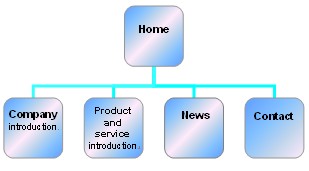 Services:
• Webpage content translation, image typesetting and flash localization etc.
• Metadata (description and keywords) optimization and translation
• Forbidden word, colour or image identification and filtering
• Reform website structure, insert other language pages and design multilingual navigation bar
• Page integration and online testing
• Review contents and cultural customs by local linguist
• Search engine submission (submit to local main search engines)
• Follow up optimization results
• Update webpages as client's request
• Other language services and marketing consulting services.

Case Study:
Client: Macrovision
Client background: it is a digital video solutions provider in California of America, which is specialized in digital products development and sales.
Requirements: it needs to establish Korean website to promote in Korean market.
Language: EN to KR
Format: Html
Size: 112K words
Duration: 2 weeks
Website: http://www.macrovision.com/kr

Service Cost and Turnaround Time Estimation:

Items

Estimated work

Time
(Every language)

Recommend option

Content translation

3000 – 4000 words

3 - 4 days

Multi-media localization(image, flash, audio, video localization etc.)

Several Flashes, estimated 10 – 15 images

4 hours

(The client must supply source files)

Keyword optimization

Discuss with client on keyword and arrangement etc.

8 hours

Website integration

Design multi-language navigation etc.

2 - 3 hours

Online testing and bug fix

Online testing in local and client's host computer

4 - 8 hours

Review by professional local

Review content and customs

4 - 6 hours

Submit to global main search engines

20 – 30 search engines

1 day

Features:
• Only the selected webpages are localized into specified languages. So the promotional content is focused and targeted, which make target readers impressive by the key products and services.
• As a normally operated website, this is an cost-effective solution from single-language to multilingual website.
• Wider language span, economic website localization spending will help promote the products and services to numbers of countries and regions.
• The maintenance cost is limited.
• The website structure is reasonable.

Suggestions to website globalization and improvement:
With the business expansion, increase the contents and keep frequent updates in company news, new product recommendation, products promotion, and customer solution centre and so on.

Work with professional website localization service provider:
You can get strong supports and dedicated services by utilizing their advantages and strengths in process, experiences, services, and talents etc., which can increase efficiency and save costs.