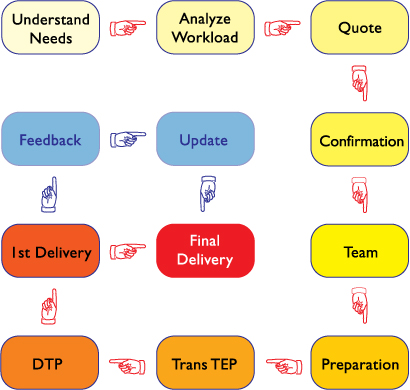 Step 1: Understand Needs
It is very important to understand the client's requirements very clearly, including language pair, deadline, delivery formats etc.
Step 2: Analyze Workload
Process the files using Trados tool etc., and analyze the project workload, including translation, DTP, engineering etc.
Step 3: Quote
Send the estimated quotes and turnaround time to the client based on the workload and requirements.
Step 4: Confirmation
The client confirms the quote and delivery time.
Step 5: Team
The PM selects the best suitable resources to form the project team, based on project content and nature.

Step 6: Preparation
For large or long-term project, we create customized glossary and style guide at the very beginning. After client approves, the project team will follow them strictly through entire project process.
Step 7: Trans TEP
The project will be translated by translators with rich experiences and 100% edited by in-house reviewers.
Step 8: DTP
The in-house DTP team will do typesetting according to client's requirments. And DTP team leader will arrange linguistic and layout checking, make revisions repeatedly until the quality meets Golden View standards.
Step 9: 1st Delivery
Deliver the PDF files to clients.
Step 10: Feedback
The client will feedback the corrections including linguistic and layout revisions. Golden View will implement the corrections until satisfied by clients.
Step 11: Update
Arrange project team to implement the changes and carry out checking thoroughly before delivery.
Step 12: Final Delivery
After get client's confirmation, Golden View will send final DTPed files to clients.